Meet Stella Tushabe - Rwanda's First Female Saxophonist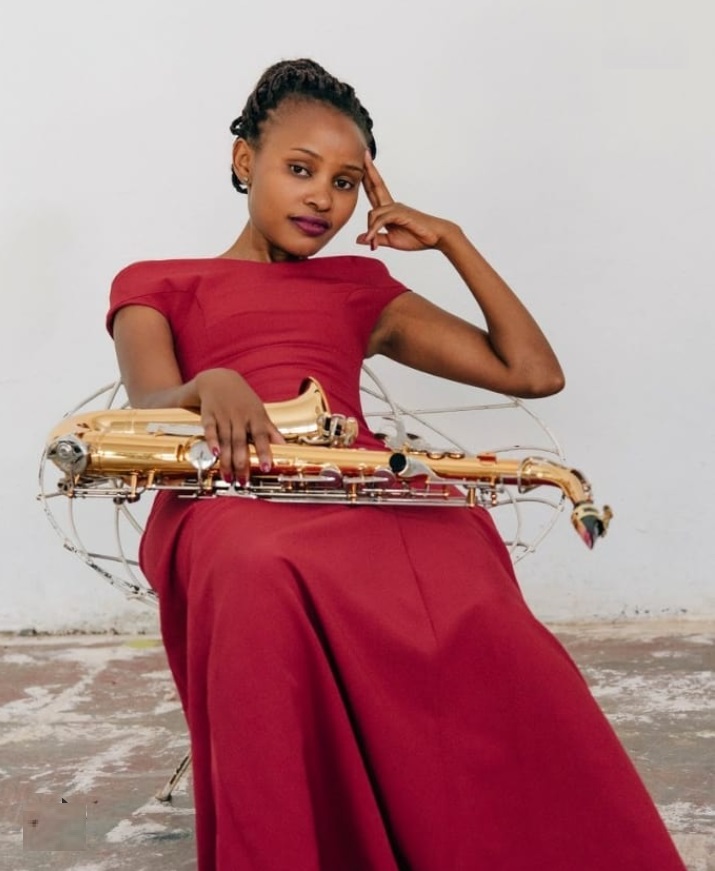 STELLA did her undergrad in International Economics and Post grad in digital marketing. And because all work and no play makes STELLA a dull girl,she plays the saxophone. I recently read a pun that defined the saxophone as the instrument for intelligent people. If Stella Tushabe and all she has accomplished both in career and music plus her role working with AIMS are anything to go by, this is one pun that is true.
TAP had the pleasure of interviewing Stella Tushabe in Kigali, Rwanda. Read on and get to know Rwanda's first female saxophone player.
Please tell the TAP Fam a little about your background
I was born in Masaka in rural Uganda. I schooled there all through to my O-levels and then I moved to Rwanda where I've been since. I did my undergrad in International Economics followed with a postgraduate in Digital marketing. I currently work in Communications at African Institute of Mathematical Sciences. AIMS job is to train and enable Africa's brilliant minds to become innovators.
How was it growing up in Uganda?
For the most part life was actually fun because of the diversity in people and in cultures. On the downside, I was regularly reminded I did not belong. It was a relief to be back in Rwanda because I didn't have to be ostracized anymore. With Rwanda, I found a place where I belonged and everything else fell perfectly into place. Nothing beats the feeling of belonging.
With your education background, how did you land into music? Did you find music or did music find you?
Music found me. My friend says you do not choose an instrument but the instrument chooses you. I think she is right,this is the story of how a car ride, a ringtone and the saxophone conspired to introduce me to music. In 2013, my friends and I were heading for a retreat. My friend's phone rang and the ringtone had a saxophone intro, it was beautiful. Every time it rang, I would just close my eyes. I didn't know what instrument that was, so I asked my friend and she said it was a saxophone. I asked if she thought I could learn how to play it and she was convinced I could play if I gave it my all. Now all I had to do was find a saxophone here in Rwanda which would turn out to be next to impossible.
"eventually, I want to change the face of music. I want to do more than play an instrument".
So how did you overcome this challenge?
I spoke to my uncle who lives in the west and I asked him to send me one. At first he was confused as to why I wanted one and he sent me a trumpet instead but of course it wasn't the trumpet I fell in love with so I asked him to send the Saxophone. It came in a huge box. Now that it was here I needed to learn to play this beautiful instrument. I wrote on Kigali live website ,'looking for a saxophone teacher…'.
You put out an advertisement?You were serious about this..
I was. A few weeks later I got a reply from a saxophone player called Herbert Rock. " I saw you were looking for a saxophone teacher", said Herbert. That is how he became my teacher. He still plays the saxophone in the Rwandan music scene. I am forever grateful to him and my friends too who would sit in my house and encourage me as I practiced, cheering me on and telling me I was doing well even though I knew I sounded horrible.
Was music ever an ambition of yours?
It was not. I really just wanted to be able to play the sound I heard that day on my friend's ringtone. How I got here as the first Rwandan female saxophonist, I cannot explain. I think it was just God's way of pulling strings for me.
What does your family think of Stella the musician?
They are proud to have a musician in the family, I think. I played at my sister's wedding and that is when they found out about my music.They had actually never heard me play before that day. My mom first came to one of my earlier performances, when I had just started out. I played her the classic " Mother how are you today", an oldie but a goldie.
"Through my Sax, I want to empower women to join the fields that they think should be for men. I want to encourage girls to be daring, to join music, to just do whatever they want to do".



What kind of challenges have you faced thus far in your musical journey?
Challenges in this industry are many. Saxophone accessories are hard to come by and are expensive. We have to buy them online and getting them here at times can prove difficult. In the beginning , getting gigs or bands to play with was hard because people just did not trust me, did not trust my skill. Things are different now because I made a conscious decision to step out and look for the opportunities. I had almost given up then my sister advised me to try playing at cafes. I played at The Portifino in Kigali and the support and response was positively overwhelming.That was last year August and i have not stopped since.

Do you ever feel pressure?
Pressure is always there, peoples' expectations are very high.With every day and every concert I play, I learn something new and learn to overcome and grow so with each performance I have something new to offer. You have to remain true to yourself and be proud of it. This is how I deal with all the pressure that comes my way.
"I also love children and I would love to start a music school for kids. When I play you can see their excitement, I want to nurture that. I even have a name for the school,"Little Notes".





Where do you see yourself in the next five years as a saxophone player?
I want to have reached greater heights with my music; record a few songs. On my mind currently is a song about empowering women to join male dominated fields. When I started my Saturday gigs I couldn't find a female pianist to play with and this made me really sad. I couldn't believe that in a city like ours there weren't more women instrumentalists. I also love children and I would love to start a music school for kids. When I play you can see their excitement, I want to nurture that. I even have a name for the school,"Little Notes".
Do you want to do this on a full time basis someday?
I do not know if I want to be a full time saxophone player. Right now I am really enjoying my job. Also, I want to be that sax player that can draft a contract, close a sale, sell an idea and still play the saxophone well, you know? I want to acquire different skills that will help me and others in the day to day career life. Eventually, I want to change the face of music. I want to do more than play an instrument.
What gets you up in the morning?
Hope. That and the desire to do more. In the context of music, every performance get's better than the last.
International women's day message?
Step up,be daring and follow your dreams. That thing that you would love to do? Do it. Also, rise above the challenges that come, because they'll come.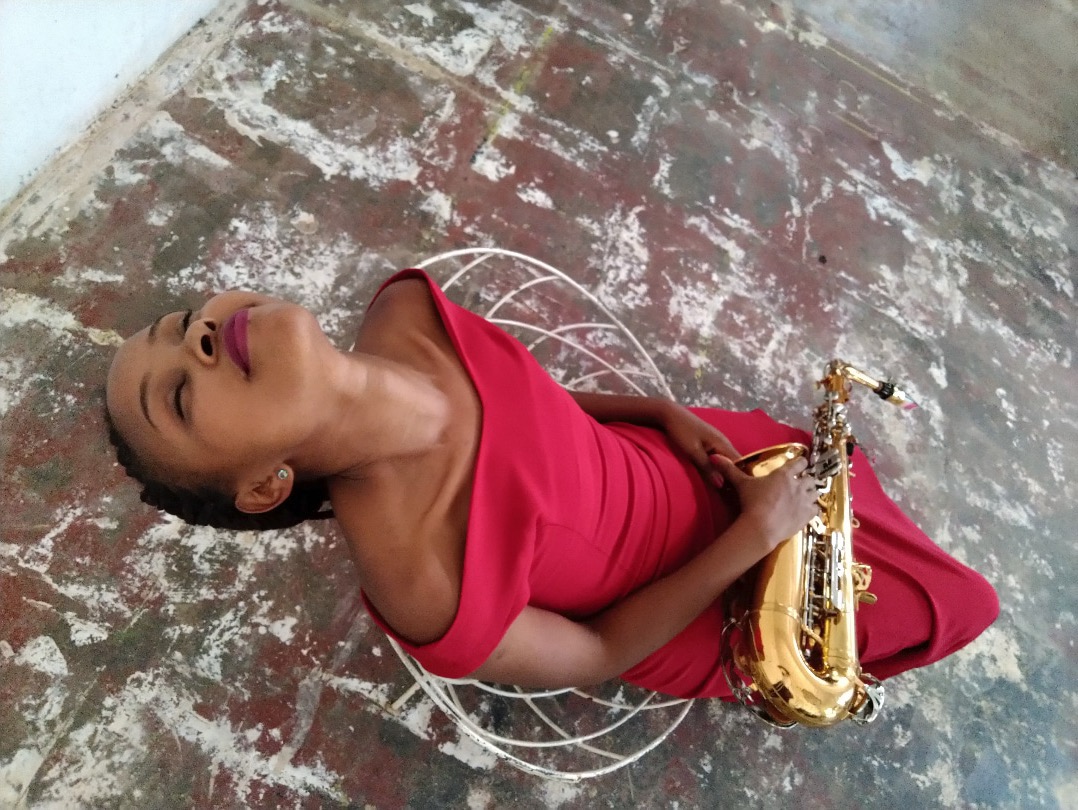 The entire TAP Fam is rooting for Rwanda's first female saxophone player! Go Stella….